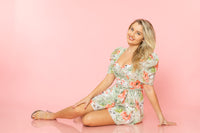 Get in touch today.
HOURS OF OPERATION:
MONDAY - FRIDAY 8:30 AM-5:30 PM  
SHOWROOM:
735 E. 12th St. #106Los Angeles, CA, 90021
CONTACT:
Phone: (213) 488-9636Email: shop@apeach.com
ABOUT US:
A.PEACH, established in the heart of Downtown Los Angeles, is a young contemporary label. Our clothing can be found in many large retailers and boutiques!With a great team of designers at A.PEACH, we pride ourselves in originality, great quality, unique prints, and romantic/feminine silhouettes.A.PEACH has been in the fashion game since 2013. Our styles can be found in department stores, online retailers, and boutiques all over the world. Join our fun adventure!We'd love for you to join our A.PEACH family through our growth & journey! We look forward to doing business with you!
VIEW OUR CATALOG:
To view our styles, pricing, and shop for our wholesale clothing brand, A.PEACH:
STAY CONNECTED: